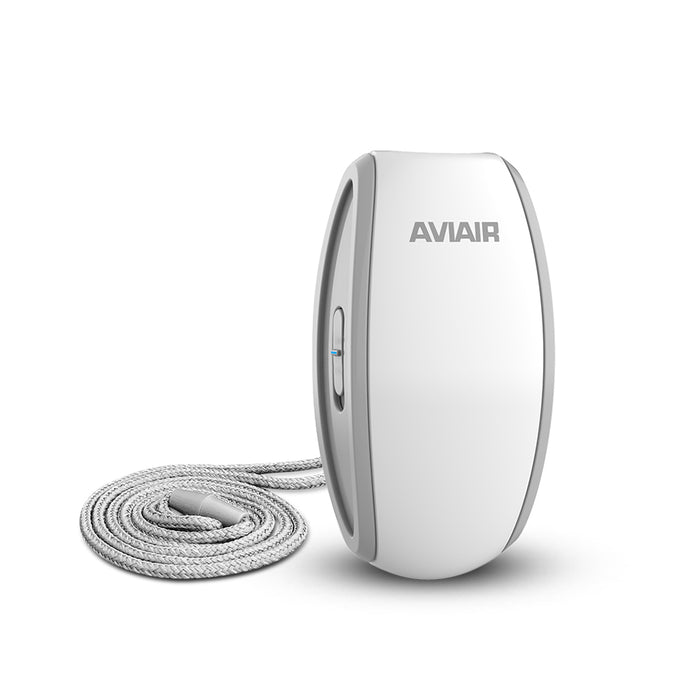 AVIAIR Travo Pur Personal Air Purifier AVP-858ES

Negative ion shield protection 
wherever your journey may take you
Pollutant guardian for busy travelers who are constantly on the move. Serves as second line of defense in addition to wearing a mask during travel.

Create a cleaner personal air zone in public places 
Radiates a 3-foot orbit of healthier air 
in any direction, creating a sphere of protection against harmful pollutants. 
Wear it in front of your chest to have cleaner breathing zone anywhere you go.
Aviair Travo Pur Personal Air Purifier Relief from allergy discomfort
Against allergens to flare up allergies, eczema, asthma and etc.An extra protection in 
flu seasons and high allergen count spring and fall.
Ions Generated :20mil./ cm³
Battery :500mAh
Input :   DC5V 1A
Power :  0.05W
Charge By :USB Cable
Charging Time :3 Hours
Operating Time :144 Hours
Product Dimensions :82mm x 42mm x 26mm
Product Weight :57g
Include :Personal Air Purifier / USB Charging Cable /Storage Case / Cleaning Brush / Instruction Manual
Warranty
** This product is warranted against product design and manufacturing defects
for 12 months from the date of your purchase. Fill out the form and keep proof
of purchase to reserve your rights. This limited warranty excludes, USB cable,
Storage Bag, Cleaning Brush, and any misuse or use that does not conform to
the instructions in the manual. For any questions, please contact your dealer.