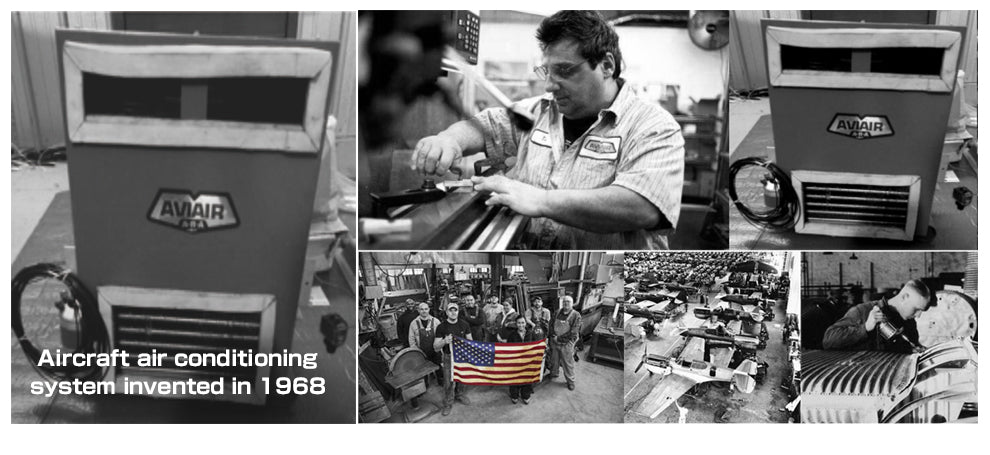 AVIAIR, an innovator with times, from evolution of mechanics in the 60's to sophisticated internet of things in the modern era, we carry the pioneer inspiration to design smart living products for this ever-changing world. The name AVIAIR is a composition of Aviation and Air, which symbolizes freeness and soaring spirit of preferred lifestyles.
AVIAIR manufacturing was originally founded in 1968 in Arlington, Texas, where the first air conditioning system was pioneered for single engine airplane sealed cabins. This innovation was awarded a patent on June 8th, 1971. Later in 1975, production was moved to Grand Prairie, Texas, where the developers succeeded to bring air conditioning system into automobiles. This application was also awarded a patent, on May 10th, 1977. Both accomplishments established AVIAIR as a leader in air treatment technologies.
Due to ongoing air pollution concerns in the 21st century, AVIAIR is committed to develop effective air treatment products to improve indoor air quality. Combining precision sensors, purification techniques, filtration media, and interface software designs, AVIAIR has created user-friendly intelligent real-time monitor and control air purification systems.
In 2016, AVIAIR has begun development on portable electrolysis modules, which resulted applying electrolyzed water for healthcare, beauty, and sanitization industry use. By early 2019, after a breakthrough to combine rare earth substances for module coating, the first reliable electrolysis generator sanitizing system was introduced. User can simply use tap water and regular table salt to unlock the science and make nature's own disinfectant anytime anywhere.
As COVID-19 becoming a pandemic worldwide since start of 2020, we have accelerated the introduction of our second-generation electrolysis generator sanitizing systems. With test reports from University of Birmingham UK CL3 lab, AVIAIR electrolysis generator sanitizing systems are proven to produce disinfectant solution that can kill the coronavirus SARS-Cov-2, which causes COVID-19, in just 20 seconds. To strengthen distribution worldwide, AVIAIR has set up AVIAIR North America, AVIAIR United Kingdom, and AVIAIR Asia Pacific to face the challenge.
As mission and goals for AVIAIR, we shall continue to bring good things to life – products that improve quality of life, keep us safe and are eco-friendly and sustainable.