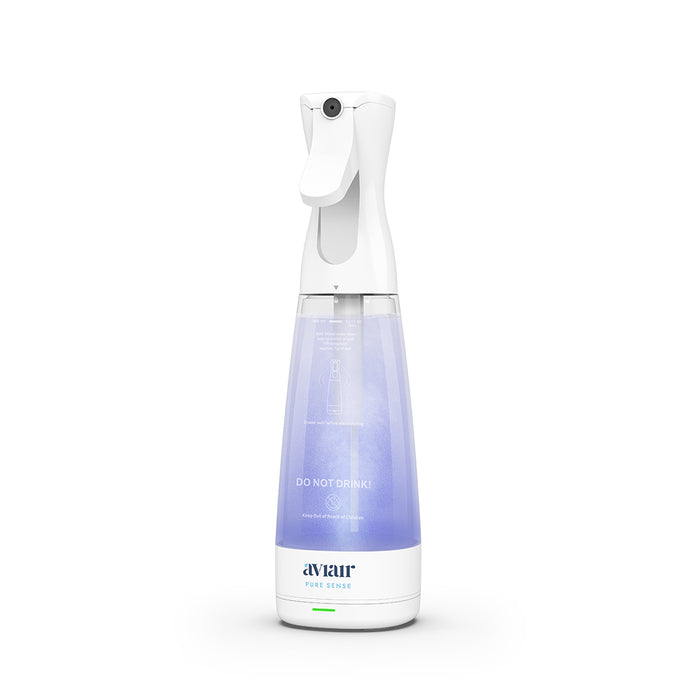 Aviair Pure SENSE AVS-SQ360P Kill COVID-19 Virus in 20 seconds
BREAKING:

Aviair Sanitizing System Proven to Kill COVID-19 Virus in 20 seconds !
No harsh chemicals
No plastic waste
Easy to operate
Unlimited refills
Make your own powerful disinfectant  in minutes 
Dimensions: 98 x 77 x 280mm (with base)
PPM: 140-180
Bottle Capacity: 360ml
Power Supply: Wireless pogo pin charging base
Time to Electrolyze: 8 minutes
Weight: 325g (with base)
Material: Food Grade PP/ABS/PC/Silicone
Power: DC 5V 2A
Include: Electrolysis Generator /

Wireless pogo pin charging base

/ Measuring Spoon / Instruction Manual / Adapter
Limited Warranty
This product is warranted against product design and manufacturing defects for 12 months from the date of your purchase. Fill out the form and keep proof of purchase to reserve your rights. This limited warranty excludes sprayer, power charger, spoon, and any misuse or use that does not conform to the instructions in the manual. For any questions, please contact your dealer.