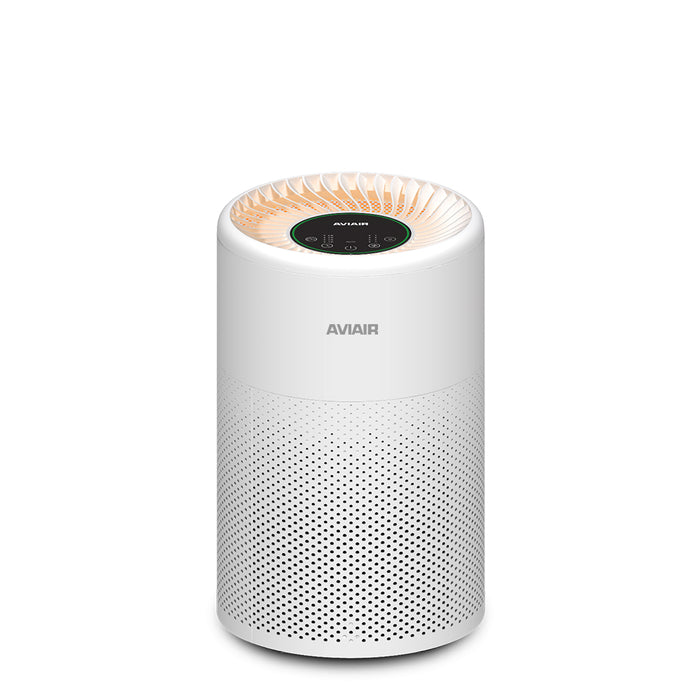 AVIAIR Compact Air Purifier AVI-385
Nano Silver Pre-Filter:Filter out large pollutants / such as big dust particles, / pet hair, dandruff, etc.
0.3 Micron HEPA :Filter out PM2.5, small dust, particles, pollens, pet fleas, dust mites, etc.
High Performance:Activated Carbon,Remove strong odors, smoke, mildew, formaldehyde, and harmful gases etc.
118 CFM  CADR Whole room air circulation and purification FAST!
Real Time monitor, control, and communicate your IAQ.
4 in 1 Air Filter Combo.
PRODUCT SPECIFCATIONS
Model No.: SAN-385
Power Rating:30 W 
Speed

:

Off / Auto / 1 / 2 / 3 / 4
Timer

:

Off/ 1 / 2 / 4 / 8
Voltage Rating:24 V DC 
Noise :53 dB(A) 
CADR:118 CFM
Room Size:230-260 Sq. Ft. 
Sensors:1 x Infrared Sensor 
Display Indicators:5 x Touch Buttons for Functions (Fan Speed, On / Off/Auto, Light Mode, Filter, Timer), 1 x Air Quality Indicator Color Ring.
Features:Touch Glass Control Panel .
Product Size: 8.66" Dia x 13.87" H 
Net Weight:4.51 lbs. (6.38 lbs with Adapter)